Quick Oil Drain Change Plug - QC Plug
Click Here For Detailed Brochure
This is an oil drain coupling fitting that replaces the original oil pan drain plug. It has an o-ring sealed spring loaded valve that is opened as a drain tool is attached and closes as it is removed to allow for a gravity style oil change.
The drain tool is normally sold with a short length of open ended clear hose for draining oil into a drain pan but can also have a quick disconnect hose end fitting attached to allow for vacuum extraction.
The plugs are also available with a stainless steel safety lanyard for aircraft and crane applications.
This product is a stand alone product that does not require the purchase of the TT-28 or the OD-28. Typical uses are for fleet service centers that must have access to the bottom of a vehicle to change the oil filter, and these plugs allow for a quicker, cleaner and safer method of draining the oil.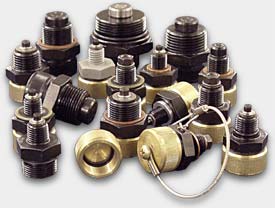 Quick Coupler Applications
Automobiles

Trucks

RV's

Motorcycles

ATV's

Lawn Mowers

Pumps

Generators

Air Compressors

Welding Machines

Water Tanks

Hydraulic Tanks

Fuel Oil Tanks

Construction Equipment

Industrial Equipment

Farm Equipment

Transmissions

Radiators

Electro Plating Tanks